Building A Gross Motor Plan
Autism
MiNavigator Newsletter
Gross Motor
As we all gear up for summer we wanted to share a reminder to get out and enjoy our beautiful state and weather.
Through our daily work with families, the navigators often have to remind them of the value of family time and recreation. We see so much growth through wonderful organizations like Special Olympics, and the many offerings from our provider community across the state.
This month we wanted to remind the autism community that services like physical therapy are critical, not only to daily function, but to give individuals with autism the opportunity to engage in the recreational options we all enjoy in our community. Physical therapy is a covered benefit under our state autism mandate. We hope you will promote this essential service if appropriate for your clients. We have highlighted some of the critical contributions of physical therapists to the autism population in this issue.
Also please remember to visit our online Community Calendar which is quickly filling up with amazing and creative opportunities for our clients with autism to get outdoors, experience a group, or a new adaptive sport.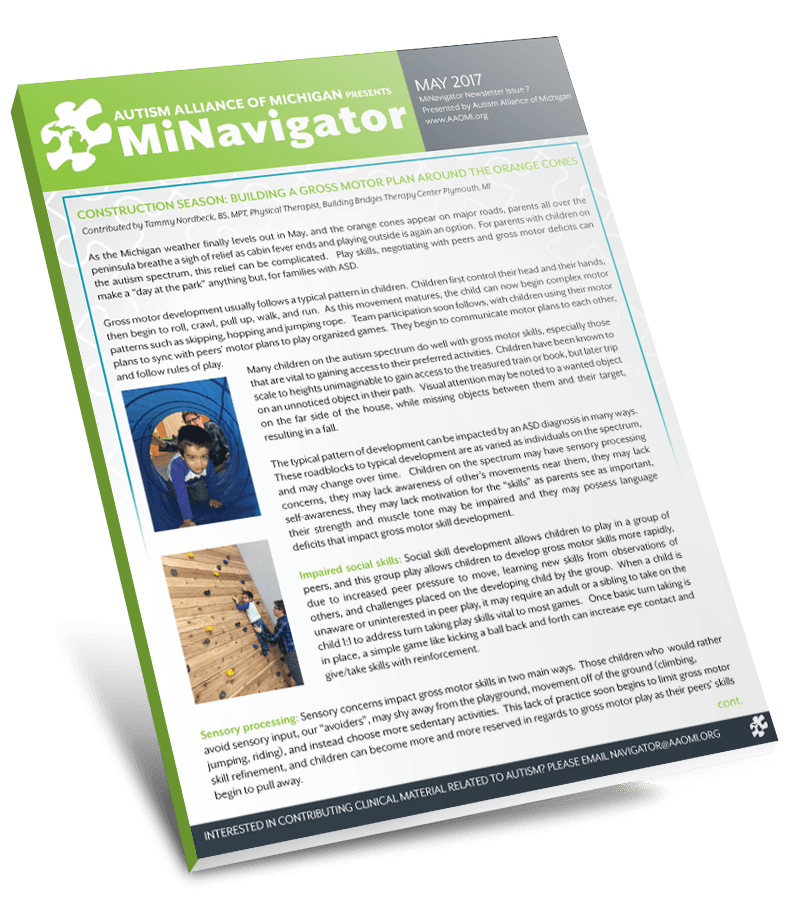 When we look back on this past year, and the many Navigator families we have engaged, I am continually humbled by the challenges so many have overcome and their persistence in always making life better for their affected family member. We are honored to work side by side with so many. Our articles in this newsletter provide a glimpse of what many struggle with.
As another year passes, we know that many parents are consumed with overwhelming concerns about their child's well-being once they are gone. Financial planning becomes critical and information about MiAble and Special Needs Trusts can be empowering in this regard. We hope the information in this issue is valuable to you and the families you serve.
Wishing all of you a very happy holiday season from your AAoM family.

Colleen Allen, Ph.D.,
President and CEO, Autism Alliance of MI
Governor Appointee, MI Autism Council