Just weeks ago, Autism Alliance of Michigan and about 6000 of our closest friends painted the Detroit Zoo green for autism acceptance in Michigan. Teams from all over the state joined us in fundraising and support. One of those teams was Eli's Au-Some Allies, raising over $5000 leading up to the event! We were fortunate enough to catch up with Team Captain and Super Mom, Victoria Fisher, who was willing to share the story of why they chose to walk and how they walked their way to being the top fundraising team!
Victoria, a tenacious mother of 3, stresses the importance of sharing your story with those around you. You may realize others have more in common with you than you'd think. Of course, Victoria says it way better than we ever could. Take a look at the Fisher family's autism journey.
Why did you decide to participate in the Autism Hero Walk?
We heard about the Autism Hero Walk via word of mouth. On April 1st, Autism Awareness Day, my family and extended family all wore blue to show support for Eli and to bring awareness to autism. My sister works in our local hospital and notices a lady wearing blue and they started discussing their love ones and experiences with autism. That lady told my sister about the Autism Hero walk and how they enjoyed it the previous year. My sister then told me about it, and that's how it all began.
I also came across the AAoM website when looking for resources and opportunities to expand Eli's team of therapists. We actually found his music therapist via the AAoM website. I like the AAoM message and what they are trying to reach for for those touch with autism.
 You were the top fundraising team for 2018. What was your secret?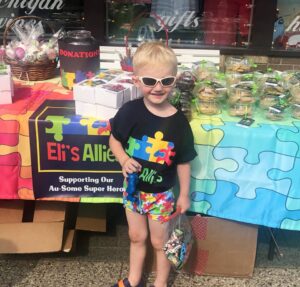 Our secret is just constantly talking about Eli and his journey with Autism. And gaining support through family, friends, and our community. Autism touches more people than most would ever know, or want to recognize.
My husband and I were born and raised in Tawas, and that's where we chose to raise our family. It's a small town, but a mighty town with a fantastic community. We chose to do a bake sale to kick off our fundraising effort, and used social media to advertise as well as word of mouth. We also were able to generate donations through local businesses.
I also have a fantastic and strong group of mamas in social media groups who follow myself and Eli through our journey with Autism. Most of these moms don't even personally know us, but they wanted to contribute to Eli's fundraising efforts. Many donated items and we created a fundraiser raffle which generated a lot of donations to Eli's fundraiser.
Another touching moment that helped raised donations was when my oldest son, Sylas asked if he could give money from his piggy bank for Eli to walk at the zoo. I had to decline his request, as he has been saving his money for a special robot toy. But, I knew we had to do something to allow Sylas to personally contribute. So, I told him that if wanted to take our cans and bottles, back to the store and return them all by himself, that he could donate that money. I once again went to social media, and told everyone what had occurred with Sylas and everyone was also touched. So, we had others drop off their cans and bottles as well. Sylas generated over $75 in returns!
As a first stated, we just kept sharing our stories with Eli and his journey with Autism. Our family and friends shared their experiences, and so on. So many people have come to me to share their concerns or experiences with children with autism (or possibly having autism) because I have spoke about Eli so much and our experiences. And this is my number one reason why I am glad we chose to do this fundraising effort for the AAoM.
How did you rally your team of 36 members to participate?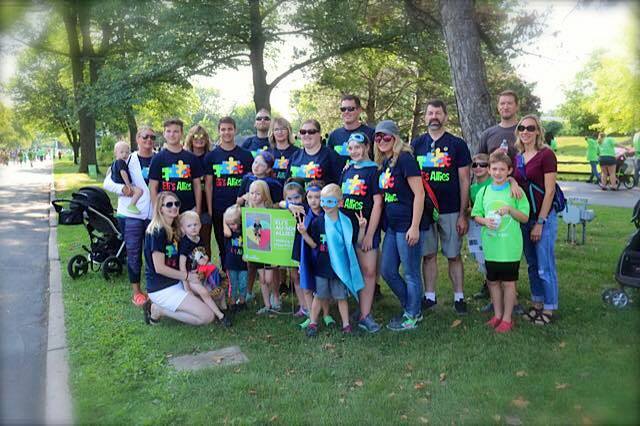 Well, we do have a big family! So, that was helpful! But, we also invited families with children to join us at the zoo for a fun day. Who doesn't love the zoo? So, we had a few families join our team just for that. And, they also were able to fundraise for us. Having the walk around the zoo is very appealing to families with small children. It keeps the little ones entertained and take the stress away from the parents to constantly entertain them.
Tell us about Eli and his autism journey. 
Eli seemed like a normal, neurotypical boy until about the age of 11-12 months. He was reaching all milestones on time or faster than average babies his age. He was saying a few words and babbling. I had no concerns that he was any different than his older brother.
Around 11-12 months, Eli started head banging and constantly rocking. He pretty much stopped all communication and would easily become upset because we didn't understand what he wanted or he couldn't tell us. I voiced my concerns at his 1 year checkup, but it was pretty much brushed off as a wait and see, and not to worry about it yet.
Eli was a very difficult child from the age of 12 to 18 months. He was frustrated, and so were his father and I. We really didn't know what was going on, or the best way to handle it. Eli's tantrums grew worse and it was honestly hard to watch him go through everything. He wasn't communicating like the typical young toddler and no matter how hard with we worked with him on using words for things he wanted or needed, it just wasn't clicking for him. During this time, he also had started to develop fascinations with certain toys or objects. He loved stickers and toy cars. But, he wouldn't play with the cars as typical kids did, he would like to spin the wheels.
I truly felt something was off with Eli, and decided that at his 18 month checkup, I wasn't going to do the wait and see approach anymore. I strongly voiced concerns, though Autism was never a thought in my mind at the time. I pushed for speech therapy and occupational therapy. We received this recommendation from our pediatrician, but unfortunately the closest place to provide these services was in Saginaw. A 1.5 hour drive each way. But, we did it for him.
So, in September of 2016, at the age of 21 months, Eli started speech and occupational therapy twice a week. This was a very trying time! Eli struggled with the therapies, tasks, and new therapists brought into his little world. He would often cry and tantrum during the sessions. We would have successful moments here and there, but it was very draining on him and us as parents. It took about 6 weeks, before Eli somewhat was acclimated to his therapists and the tasks that they set before him. He started to enjoy the sessions, but we still have tantrums often. During one his sessions,  we discovered his love for numbers, letters, and puzzles! His therapists used this to their advantage and soon Eli was saying his letters and numbers and putting 26-piece puzzles together correctly. He was calm and participating.
Also, around this time. One of Eli's sweet speech therapists suggested that we have him tested for Autism. While this took my back a little bit, I am forever grateful that she was courageous enough to make that suggestion to me. She mentioned that while the wait list was very long to have him tested, that she would do her best to get Eli on the list and to have him tested as soon as possible. At this point, I was open to anything. Eli was struggling and I just wanted him to be a happy little boy.
Eli was placed on the waiting list for Autism testing through Covenant in early November of 2016. I was anticipating about a 6 month wait time, but two days before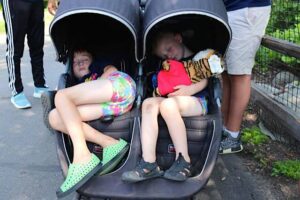 Thanksgiving, I received a call that they had a cancellation for the next morning, and they wanted to know if I could bring Eli. I jumped on this opportunity! I had to!
On November 23, 2016, Eli and I went together to his 4-hour testing for Autism. There was a lot of observation and interaction with Eli by 4 doctors and psychologists. And a lot of questions for me! That afternoon, we received Eli's autism diagnosis, one week before Eli's 2nd birthday. He was on the autism spectrum. And also, was diagnosed with Mixed Expressive and Receptive Language Disorder. While these diagnoses were scary to hear and overwhelming, I can't stress how much this diagnosis has opened the door to the services and therapies that Eli needed.
Receiving the diagnosis was only the beginning! All the recommended therapies and hours was the next daunting task. It was recommended that Eli received 40 hours of ABA therapy, 2 hours of speech therapy, and to continue his Early On program through the local school district.
As I previous mentioned, we are from a very small rural town in northern MI. We didn't have readily access to ABA therapy. There just weren't enough ABA techs or BCBAs in our area. So once again, we were on a waiting list. I would call about every week for updates on where we were on the waiting list. And, was even contemplating driving Eli to an ABA center 1.5 hours away every day just to get him the services he so desperately needed. In February of 2017, we received our ABA tech. She is such a blessing for Eli and our family. And is still with us today!
It took about 8 weeks for Eli to become acclimated to his ABA tech and now he just adores her and looks forward to his time with her. She is truly considered apart of our family now. ABA therapy has done wonders for Eli. He is growing leaps and bounds and is no longer significantly delayed in most area of peers. He is able to communicates his needs and wants, and the tantrums are at a minimal. Also, with the help of ABA we were able to successfully potty train Eli, something that I wasn't sure how we were going to accomplish. He has learned the importance of eye contact, facial expressions and body language, empathy, and surpasses his peers in all educational and knowledge generally known for his age.
Through this time, we have had a wonderful speech therapist come into our lives. And, she comes to our home! No more driving 1.5 hours one way. Again, through talking about Eli and researching resources, I found an acquaintance who happen to grow up in Tawas as well, and was now a speech therapist. She desired to come back to the Tawas area and grow her practice and to provide our area the much needed services that it lacked. Eli was one of her first clients in the area, and he absolutely loves her as well. He has been with her for about a year now, and his speech and language has taken off! When he started with her, he still wasn't saying one word for items he desired. Now with patience and practice, we are able to get 3-5 sentences or phrases from him.
Eli also started Early On, a program through our local school district, around the age of 20 months. This was a recommendation made by our pediatrician and through phone calls made to the program director. We attended a group session with other delayed children (ages birth – 3 years) once a week for 2 hours. This provided Eli some social interaction with other children, but also, gave him his first glimpse into an educational routine. He would experience circle time, activity centers, gym time, one on one teacher time, snack time, and free play. Eli struggled with the structure and transitions from one activity to the next often, bringing out the tantrums. But with persistence and patience, we were able to get him to accept the transitions and to enjoy his time at Early On. Through Early On, we also have a teacher come to our home, once a week for an hour session with Eli. This time was used to help with him to learn and strengthen his knowledge in the aspect of education and knowledge.
Once Eli turned 3, he was placed in a preschool class with children who were delayed, again through the Early On program. He attended the class for 3 half days a week. And loved it. He was in a classroom with a preschool teacher, speech therapist, and occupational therapist. He learned the preschool class routine and excelled.
One important step that I want to stress to parents with a child on the spectrum is to get an IEP through their school district as soon as possible. Eli received his IEP at the age of 3 (actually it was just before his 3rd birthday). He won't be attending Kindergarten for two more years, but he is now in the school system and they are already creating plans and tracking his progress for a successful education experience, with the goal of having him attend classes with his peers. He now has the options for aides, or special educational services if needed. The ground work has already been laid for him. An IEP is golden and should definitely be sought by parents for their children with autism.
He will be attending this preschool again this fall, but also through the suggestions of his teachers, he will be participating in a dual enrollment with our local preschool for neurotypical children. Eli is extremely smart and has all the knowledge and more than a typical 3.5 year knows. He is smarter than your typical Kindergartener. For this reason, the focus now is to try and engage Eli more with his peers, for the social interactions to help him learn the social norms.
Finally, through the help of the AAoM website, we were able to find music therapy for Eli. The sessions do take place a little over an hour from our home, but its not that bad of drive for the experience Eli receives. When first attending music therapy, Eli would cover his ears and say "too loud" and it did take some time for him to acclimate to his therapist. We are about 2 months into our once a week sessions, and Eli is now thoroughly enjoying his time there. He is singing, playing music, dancing, and interacting playfully with his therapist. He will now ask me to dance with him when he hears music playing. And every once in a while, I will hear him singing a song.
We are now a little over a year and half into Eli's journey with autism since we received the official diagnosis. Things are much easier now when it comes to Eli. He is able to communicate which has significantly reduced his frustrations, and therefore reduced the tantrums. He is overall a much happier child, who is growing leaps and bounds. We do still have some tough times and days, but we have learned to overcome them.
Eli's journey with autism hasn't been very long yet, and it's a little daunting to think about what the futures hold for him, but I feel we are doing our best to lay the ground work for him to have a successful future and to be a great contributing member of society.
What would you tell parents who have just received an autism diagnosis for their child? 
I know the first feeling to overcome parents when they learn of their child's autism diagnosis is usually the feeling of being overwhelmed. At least that is what I was. So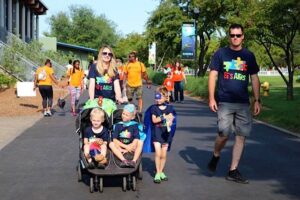 many thoughts raced through my head and I was given so much information all at once. How was I going to be able to provide him with all these therapies that was suggested! How was I going to deal with the insurance company? What did the future hold for Eli and us? There was fear and sadness as well.
I am not going to lie, I felt defeated and scared for Eli and our family when we first received the diagnosis. But, I quickly realized it wasn't the end of the world. Eli was overall a healthy little boy, who needed us. Autism is not an all ending diagnosis. We were blessed with our son, and he was given to us for a reason.
I would tell parents to take it one step at time. You now need to be an advocate for your child. You need to be his or her voice. Find them therapies and services that they desperately need. It is not going to be easy for you or them at first. Children with autism generally don't like new people or change in their lives, but they will acclimate with time. Trust the process, but also don't be afraid to voice your concerns or ask questions.
Research different options, resources, and experiences for your child. Don't be afraid to take your child out into public for fear of having them tantrum on you and receive public ridicule. I know this is easy for me to say, but I have been there and I am still there. But, children with autism need to learn to function in the real world. They need to experience every day errands, eating out, getting their hair cut, being in social play groups or activities. I have enrolled Eli into gymnastics three times now. The first six-week session was a disaster and very tiring, but we continue at it. I know I got the stares and probably was talked about, but it wasn't for me. It was for Eli.
While you may experience public ridicule, there are also people out there who truly understand and will come to aide you at any time. They will lift your spirits up. Don't be afraid to allow your child the normal every day experiences. The autism diagnosis shouldn't stop you from enjoying life and experiences with your child. Yes, it may change how you do some things, but don't let it stop you.
If you can, openly talk about your journey and experiences. I tend to be a very quiet person. But since receiving Eli's diagnosis, I openly talk about him and his journey.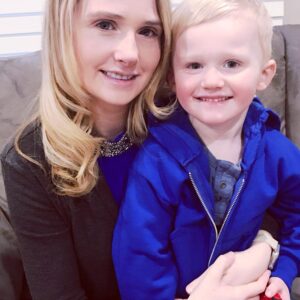 I had no one to talk to when I first received Eli's diagnosis. I knew no one at the time who had a child with autism. But, I needed to find therapies and resources for him, so I put myself out there. I asked friends and acquaintances to put me touch with other parents who had children with autism.
Now, I am the one who has friends coming to me or sending their friends to talk to me about their children and concerns. I am so happy to be in the position now to help others in this overwhelming experience of having a child with autism. I have had friends, and even strangers thank me for openly talking about Eli and our autism journey because now they feel like they have someone to turn to.
Finally, I want to stress the importance of early intervention. Don't ignore or brush aside the symptoms that you are seeing in your child. Don't allow yourself or others to just to say he or she is just being a toddler (terrible twos, trying threes, etc.). If I listened to these suggestions (and I almost did), Eli wouldn't be where he is today. I can't imagine what my current state of mental health or Eli's would be if we didn't listen to that speech therapist's suggestion when she mentioned Autism. Eli is thriving today as a happy, well equipped, young boy because of early intervention.
What have you learned during your journey with autism?
I think the key thing that I learned during our journey with autism is that you have to be persistent. Persistent with receiving answers for your child. Persistent in
receiving the needed therapies. Persistent in working with the insurance companies. Persistent in working with your school districts. As parents, we need to be involved in our children's' journeys and being willing to adapt and provide them with a meaningful life. Never give up on finding new therapies, resources, and experience for your child with autism.
There are more people than you may realize, who are touched by someone with autism. You are not alone. Speak up and talk about your experience. You will be surprised how many people come to you with similar experiences. You will grow your circle of support, and develop some great friendships, not only for yourself, but for your child.
 What else would you like our readers to know about you, Eli and your family? 
Eli has two neurotypical brothers. His older brother, Sylas just turned 5. Sylas adores Eli and truly sees him as no different than any other child. He plays with him and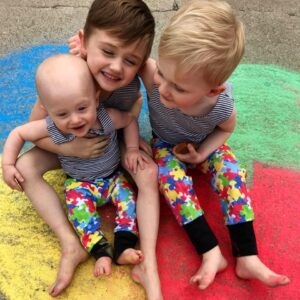 interacts with him just as any other brother would do. He is always looking out for Eli and strives to keep him happy. Sylas was made be an older brother of a boy with autism.
His younger brother, Rylan is 14 months old. Rylan is a smart, and charismatic little boy who shows no signs of autism. I have had people ask or remark that I must be relieved by this. I don't know how to respond to those comments. I don't see Eli or love him any different than his brothers. Yes, he has autism. But, he is still my son. Not my autistic son, if that makes sense.
We have chosen to raise our family in the small town of Tawas. And unfortunately, the therapies and resources are very limited in our rural community for children with autism. My hope is that someday, these services will be readily available for children with autism in rural communities. I think that with persistence and autism awareness this may be possible. We just have to keep talking about it.