Over 80 Attendees Join Autism Alliance of Michigan and Grand Rapids Children's Museum for Seal of Approval Ceremony
Autism
Seal of Approval
Grand Rapids Children's Muesuem
Grand Rapids, MI—On Monday, January 30th at 5:00 p.m. Autism Alliance of Michigan (AAoM) presented the Autism Alliance Seal of Approval to the Grand Rapids Children's Museum (GRCM) for their work toward creating a safe and welcoming venue for autism families.
The same afternoon, over 30 staff members and volunteers from the GRCM attended a 2-hour safety training presentation from AAoM's Safety Specialist, Scott Schuelke. This training was the last step of the Autism Seal of Approval process, which includes:
Host mandatory all-staff safety training so that families can be assured that staff know how to interact and protect individuals with autism and related special needs.
Preparation of a social narrative and/or sensory map to help families prepare for their visit. AAoM assists through advisement and/or creation of materials.
Undergo a free Safety and Sensory Audit Walk-Through with a member of AAoM's MiNavigator and Safety Program Staff.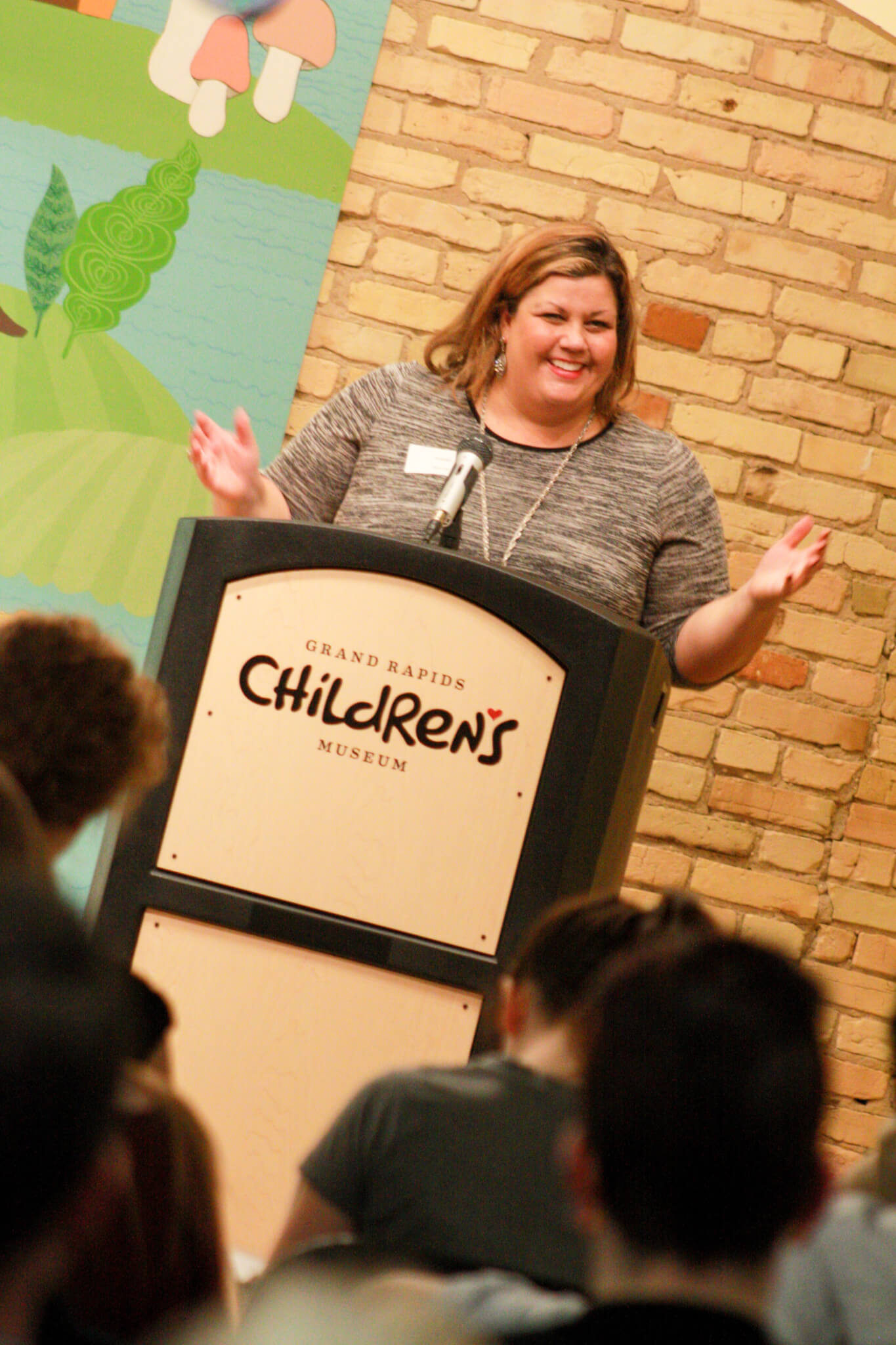 GRCM is the second venue in the entire state to receive this distinction (the Detroit Zoo being the first). Maggie Lancaster, GRCM's Executive Director stated, "We want to thank the Autism Alliance of Michigan for this great honor.  It has been a decade long journey and are humbled to have someone recognize the hard work that has been put forth by so many staff members, volunteers, board members and community partners at the Grand Rapids Children's Museum.  A primary goal of the GRCM is being the advocate of play for all.  Having partners like the Autism Alliance of Michigan means we can further our mission and provide all families this much needed necessity in a child's life."
AAoM welcomes the opportunity to work with other historic, cultural and recreational venues across Michigan to better welcome and accommodate families affected by autism. Tammy Morris, AAoM's Chief Program Officer, mentioned, "At our core the Autism Alliance of Michigan is dedicated to advocacy, whether large scale policy change, or reaching every individual with autism who may be in need.  When our team is able to navigate families and different learners to an inspiring cultural venue like the Grand Rapids Children's Museum, we take pause to celebrate.  Our Autism Alliance of Michigan Seal of Approval signifies our confidence in the warm welcomes, thorough staff training, and safe place for autism families to visit, play, and learn."
For those interested in receiving Autism Safety training and/or qualifying for the Autism Alliance Seal of Approval, contact 877-463-AAOM or email Navigator@aaomi.org.
About Autism Alliance of Michigan
The mission of Autism Alliance of Michigan is to lead collaborative efforts across the state that will improve the quality of life for individuals with autism through education, comprehensive services, community awareness, inclusion efforts, and coordinated advocacy. For more information, visit www.aaomi.org.
About Grand Rapids Children's Museum
The Grand Rapids Children's Museum creates minds through play by providing open-ended, creative, interactive play experiences which have been shown to help the cognitive, social, emotional and physical development of children. Children ages 0-10 learn while having fun each time they visit. The Museum is open to the public Tuesdays, Wednesdays, Fridays and Saturdays from 9:30 a.m.-5 p.m., Thursdays 9:30 a.m.-8 p.m. (Thursday Family Night 5-8 p.m.) and Sundays noon-5 p.m. Regular admission is $8.50 per person, EBT card discount is $1.75 all day, every day, Family Night is $1.75 and Pals Members and children under 1 are free! For more information, please visit www.grcm.org.