COMMUNITY MEMBERS SAFETY TRAINED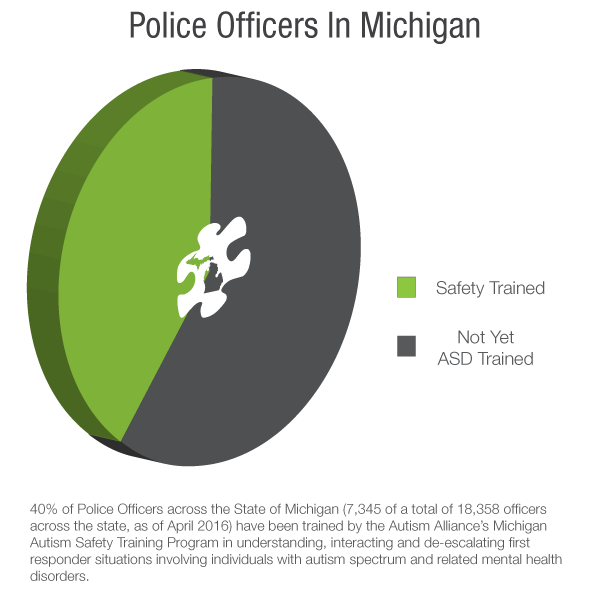 First Responder Safety Training
The Autism Alliance of Michigan has reached and trained over 14,000 Police, Fire and EMS personnel across the state of Michigan. Since inception, our first responder training has had a broad geographical reach across Michigan. Officers trained report a significant increase in their comfort level knowing what to expect, and how to interact with individuals with autism and their families that they intercept through their regular duties. Many misconceptions and miscommunications are at risk when officers receive individuals with autism and so our first step in keeping the autism community safe is in having first responders who best know how to help them. Our First Responder Safety Training has been endorsed by Michigan Association of Chiefs of Police, MCOLES, Michigan Department of Community Health, Michigan Sheriff's Association, and Michigan Municipal Risk Management Authority.
Community and Family Safety Training
We hope to eventually reach all community venues, agencies, retail, and recreation where families with a loved one with autism spend their time. Our Safety Training for Communities and Families has trained many caregivers and providers on keeping individuals with autism safe as they venture to school and in the community. We have also trained many community-based professionals in environments to enable them to be be informed and safe in receiving individuals with autism, such as the YMCA, Community Health Departments, Detroit Zoo, Metro Airport, and many more. We hope to soon see our Autism Alliance Approved seal of approval across venues all over the state of Michigan, so that families can be assured that the staff who interact with their child will be autism aware, understanding, and help them to keep their child safe in their environment. It truly takes a village, and we applaud those community members who have come forward thus far and asked us to train them to be a more supportive village for our families.