Evan Frye, 18, may have an ASD diagnosis, but that hasn't stopped him from making his way to being a finalist in a huge national invention competition (along with his younger brother). In preparing for the competition, he learned to do graphic design and compose music for promotional purposes. The contest is Frito-Lay Variety Packs Dreamvention Contest, and Evan's entry is "Sole Riders." He is one of just 5 finalists and the winner gets $250,000 (which will pay for college for both boys!). He is the only finalist (team) from Michigan. Voting is open until January 6, 2019, at www.mydreamvention.com.
We we fortunate enough to get some time with Evan and get the ins and outs of the challenges he has faced over the years and how it all led him to some national recognition though this contest!
What were your biggest challenges in grade school/high school and how did you grow through those challenges?
Probably my biggest challenge was communicating with teachers. I tend to take things very literally, but sometimes I would give a literal answer to a question or do exactly what was asked and the teachers wanted something else, which was frustrating. I remember questions like "what did you learn from this article" and my answer was "nothing." I really didn't learn anything I didn't already know, but that wasn't the answer the teacher wanted! This has become easier for me now that I get most assignments in writing, and I'm better about asking questions if something isn't clear. I also experienced depression and anxiety, particularly in middle school and early high school, but that got better over time.
What is your favorite thing about attending EMU so far? 
I really like my SAG (Simulation, Animation, and Gaming) class. It's probably the first class I've taken that really interests me and makes me do things I'd enjoy doing even if it wasn't a class! I also like being able to plan my own schedule during the day (at least when I am not in class).
How did SHREWD with Autism Alliance of Michigan benefit you?
SHREWD helped give me confidence that I was ready to start looking for a job and was able to handle responsibilities. We also used the AAoM website information when I started looking for a job to get information about interviews, employment laws, places to look for jobs, and so on. I got a job working at Target fairly quickly, though, and have worked there part-time for over a year. So we now use the AAoM website for things like the Navigator newsletter and general information and contacts about autism services in Michigan. There is a lot of good information available through AAoM and I like the feeling of support that comes from that organization.
How did you get involved with the Frito-Lay Variety Packs Dreamvention Contest? And how can our readers vote? What would you do with the winning money?
We submitted a number of invention ideas online at the beginning of the year, and found out in late June that we were finalists – but we couldn't tell anyone we were finalists until November 26! There are only 5 invention finalists. The winner of the grand prize ($250,000) is determined by online voting. Voting started November 26 and continues through January 6. Readers can vote for SOLE RIDERS online at www.mydreamvention.com. They can vote once every day, on every platform and browser they have available. If they sign up on the website while voting, they can win $1,000 – Frito-Lay is giving away $1,000 per day during the contest.
This contest means a lot to me, and my family. If we win, I want to buy a good gaming laptop so I can do 3D modeling and game design, and I'd have enough left over to pay for the rest of my college tuition.
Can you describe your Sole Riders project?
Sole Riders is a specially-designed shoe with 3D printed connectors built in to the sole which allows the shoe to be connected to roller skates, skis, snowshoes, mops, lawn aerators, clipless bike pedals, stilts, jumping springs, and more. Most of these things can fit in a backpack for easy transport, so you can wear a normal-looking sneaker but easily convert it to another use by adding an attachment. We currently only have prototypes for the shoe, roller skates, and floor mop, but we are working on more. I like the idea of roller skates because some of my classes are quite a walk from my dorm. With attachable skates I could get to class faster and easier.
What is your favorite thing about working with your brother?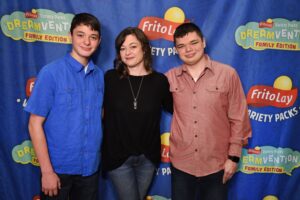 This is a tough question. My brother and I don't work together on many things. We are very different and don't always get along. What I do like is that we are working together as a team on this contest and we each have something different to contribute. It is a "family edition" of the Dreamvention contest so it was important that we find a way to work together as a family. The original idea for Sole Riders came from my brother (when he was 12), but I helped come up with ideas for attachments and I worked on digital art for our original submissions and then composed music to later use for promotion. I'm also our team captain!
When you aren't in school or inventing new products, what do you like to do for fun?
I like to play video games, listen to audio books and podcasts, and talk to friends online. I've also spent a lot of time lately composing instrumental music on my computer and making vector graphics (digital art) and animations.
What is your biggest accomplishment?
I'm not really sure. Being part of this contest is a big accomplishment. I was also proud of getting my driver's license, driving myself to and from school and work for a year (with no accidents or tickets!), and graduating high school and getting into college. Sometimes I feel like all these things are expected, though, and that I'm still waiting for my "biggest accomplishment" which hasn't happened yet.
What are your goals for the future?
Well, I'd really like to graduate from either EMU or MSU with a degree that will help me get a job creating video games. I enjoy designing worlds, creating stories, making music on my computer, and much of what goes along with video games. I know that I might not get that kind of job right away, though, so I'm also learning to do animations and vector graphics and I plan to take classes on video and sound editing to expand the range of jobs I could get right out of college.
What advice would you give someone growing up with autism?
Don't give up. Sometimes you feel like nobody understands you or that you'll never do anything right, but that's never entirely true. There are other people out there just like you, and success doesn't come unless you go outside your comfort zone and try new things.
Anything else you want our readership to know?
Readers can find out more about our Sole Riders invention on the dreamvention website or on our Facebook "Sole Riders" page. VOTE SOLE RIDERS!