[et_pb_section admin_label="section"][et_pb_row admin_label="row"][et_pb_column type="4_4″][et_pb_text admin_label="Text" background_layout="light" text_orientation="left" use_border_color="off" border_color="#ffffff" border_style="solid"]
On Monday, May 16, 2016, Autism Alliance of Michigan (AAoM) was honored to present the Detroit Zoological Society (DZS) with its first Autism Seal of Approval Plaque. This award is given to businesses in Michigan who have demonstrated a conscious effort to accommodating and accepting individuals with autism.
The DZS is the first organization to receive this honor. For the past several years, AAoM has been working closely with the DZS staff and volunteers to create a safe and autism-friendly environment at the Zoo. This includes:
Hosting routine all-staff Safety Training so that families can be assured that staff and volunteers know how to interact and protect individuals with autism
Preparing a social narrative and/or sensory map to help families prepare for their visit.
Undergoing a free Safety and Sensory Audit Walk Through with a member of AAoM's Safety or Programmatic Staff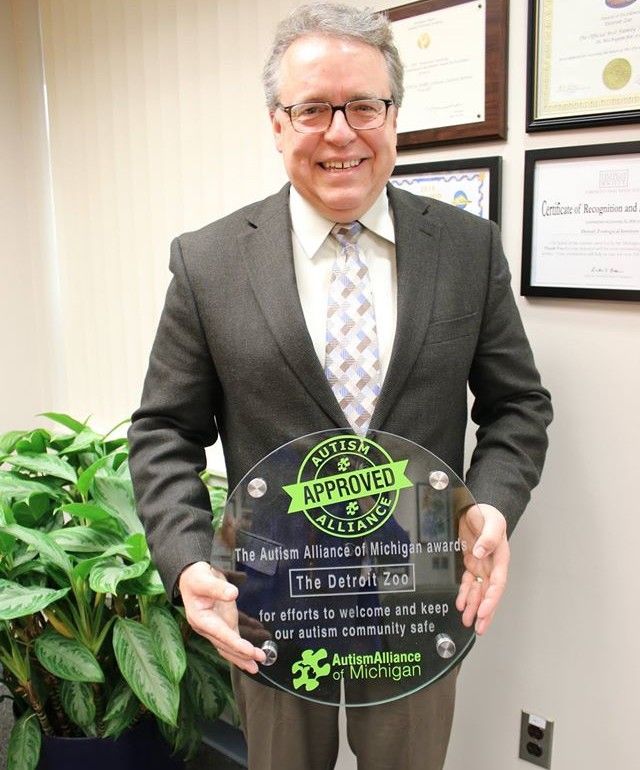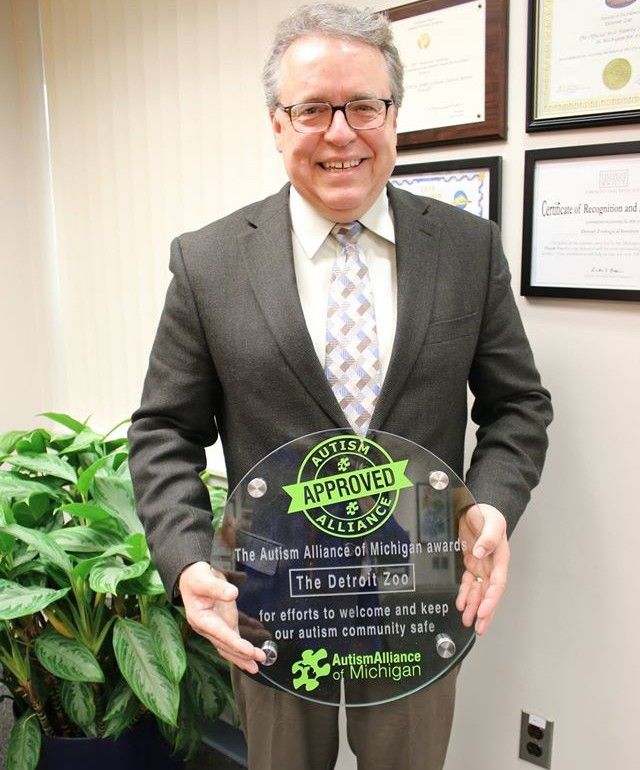 We hope to soon see our Autism Alliance Approved seal of approval across venues all over the state of Michigan, so that families can be assured that the staff who interact with their child will be autism aware, understanding, and help them to keep their child safe in their environment. It truly takes a village, and we applaud those community members who have come forward thus far and asked us to train them to be a more supportive village for our families.
Thank you to the Detroit Zoological Society for paving the way for other community venues to take a step to ensure their location is autism-friendly.
For those interested in learning more about AAoM's community endeavors, please contact MiNavigator at Navigator@aaomi.org or 877-463-AAOM. Across the State, the team at AAoM is well equipped to help our community partners prepare their venues and materials to ensure that they are able to universally design, make accommodations, and offer safe and welcoming environments for families while diversifying their business.
[/et_pb_text][/et_pb_column][/et_pb_row][et_pb_row admin_label="Row" make_fullwidth="off" use_custom_width="off" width_unit="on" use_custom_gutter="off" padding_mobile="off" background_color="#ededed" allow_player_pause="off" parallax="off" parallax_method="off" make_equal="off" column_padding_mobile="on" padding_top_1="35″ padding_right_1="50″ padding_bottom_1="35″ padding_left_1="50″][et_pb_column type="4_4″][et_pb_text admin_label="Text" background_layout="light" text_orientation="left" text_font="|on|||" text_font_size="16″ use_border_color="on" border_color="#81d742″ border_width="2px" border_style="solid" custom_padding="25px|25px|25px|25px"]
Is this story making you want to check out the Detroit Zoo? Join us for the 2nd annual Autism Hero Walk on Sunday, July 31st. For more details and to register, visit www.aaomwalk.com.
[/et_pb_text][et_pb_image admin_label="Image" src="https://autismallianceofmichigan.org/wp-content/uploads/2016/05/aaom_walk_mailchimp_ad.jpg" show_in_lightbox="off" url="www.aaomwalk.com " url_new_window="off" animation="off" sticky="off" align="center" force_fullwidth="off" always_center_on_mobile="on" use_border_color="off" border_color="#ffffff" border_style="solid"]
[/et_pb_image][/et_pb_column][/et_pb_row][/et_pb_section]